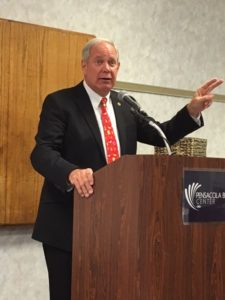 In February of 2019, Bill received one of the greatest honors. He was recognized as the Humanitarian of the year. Bill takes pride in giving back to the community that has given so much to him.
Bill has been a member of our local Pensacola Civitan Club for over 28 years. The Mission Statement of Civitan as a club is.. "The worldwide mission of Civitan International is to build good citizenship by providing a volunteer organization of clubs dedicated to serving individual and community needs, with an emphasis on helping people with developmental disabilities." Bill lives by this code every day of his life. He is a past president of our local chapter and has headed several large community events, including, but not limited to... heading up the construction of a 500 foot walkway leading up to a new amphitheater at West Gate School to allow for students with disabilities to enjoy the facilities with greater ease. Also during this seat, he sold Christmas Trees to benefit ARC Disability Center for over 12 years. While his Presidency has ended, he continues on with the Civitans in other capacities. 25 years ago, he founded and continues to head up the annual Civitan Picnic for children with disabilities, hands out annual scholarship awards to deserving young folks, he runs the Civitan annual Christmas Auctions, helps with the car park for the handicapped, announces "Citizen of the Year" for both Community participants as well as exemplary Student. He remains an active member of the board.
Bill has taught classes with the Junior Achievement (teaching life skills classes to adolescents). He participates with the "Streets & Lanes" Ministry, by providing meals for the homeless.
Bill is a past member of St Christopher Episcopal Church where he was head of hospitality, a past Board member, Sunday school teacher and doorman. Currently Bill is a member of St. Mark's and holds a position on the Board, holds Communion within the church as well as for "Shut-ins", is on the Personnel board and is an active part of the "Volunteer Janitorial" Staff. Bill's family has been an instrumental part of the foundation of this community and is very proud that both churches were built by his Grandfather & his construction business.
RE/MAX Horizons Realty participates in many volunteer efforts, such as cooking for Ronald McDonald House Charities, Wreaths Across America, Making Strides Against Breast Cancer to name a few, and Bill is front and center at every event.
Bill is a past member of our local Sertoma, (acronym for Service to Mankind) club, a retired Mardi Gras member (huge in the south), and has been on the Board of the East Hill Neighborhood Association for 12 years. Lastly, Bill is a proud Bell Ringer for the Salvation Army every year.
Every year, Bill organizes a picnic that's put on by our local Civitan Group that benefits the handicap. It's something he is incredibly passionate about, just like you see he is incredibly passionate about being present in his community.
Bill does all of this while managing his own Real Estate Business with RE/MAX Horizons Realty since 2002.
They don't call him "East Hill Bill" for nothing.
Testimonials
" Donnie and I wanted to let you know how much we appreciate all the work you have done for us- from meeting us on Sundays- showing us homes after dark- to taking care of all the home repairs and thousand and one little details of our purchase. We are very glad we called about the house on Poplar! We'll be sure to send any friends who are looking your way! "
- Donnie and Aletheia Zambesi
" I know this was a difficult sell for you and not much commission, but I wanted you to know that I greatly appreciate all your hard work. You are a very nice, pleasant person and I feel very fortunate to know you. Thanks a million! "
- Stacey Shoulders
" Thank you for helping us sell our home in Pace, FL then helping us purchase a new home in East Hill, FL. We are very pleased and happy with the process and our new home. You were our advocate the whole way. We appreciate your patience with answering all our questions as well as for setting up the inspections, survey, and insurance contacts. It was very helpful. You were always available to show us a house and to guide us with specific information about the house or the East Hill Neighborhood. Most of all, you helped us work with the lender to bring the deal to a close so we could move into our new home without further delays. Everyone should have an advocate like you to get them through the process and to look out for their best interests. Thank you again for your support of our new life adventure! We already love living in East Hill. Happy Homeowners! "
- Larry and Aisha Adkison
" I really appreciate your hitting the extra mile for us. You and I go WAY back and I want you to benefit greatly from this. "
- Susan Nicholas
" I want to thank you from the bottom of my heart for what you have done for me and my family. Even though you were the Seller's rep, you could see we were being wrongfully handled. You truly are a stand up guy and it makes me realize that there really are good people still in this world. Your honesty makes my serving worth every minute away from my family. Thank you again, Very Respectfully, William Bessemer "
- From the Commander's Desk Lt. Col Mack Bessemer 455 ECS
" We've probably bought/sold with Bill a half dozen times now, and I can't imagine going with anyone else. He's honest, upfront and a pleasure to deal with. He's gone above and beyond for us, especially on this latest acquisition! I recommend him to everyone I know who's in the market to buy or sell. "
- Jesse
" Thanks for all your help getting "The Brothers" together to sell Dad's house. You did a great job. We are all very pleased. "
- Tom Threadgill
" Bill Chavis is an excellent real estate expert and I am so pleased with the way he helped me out with the sale of my family's home. He is truly a senior specialist and knows the housing market like few people do---anywhere. I live in Dallas/Ft. Worth area and am fortunate to have had Bill represent me in the Pensacola area. Having had the house in our family for 51 years, I was faced with the duty of selling the home after placing my 96 year old mom in a new home with an assisted living facility. Bill was able to consult with me on the details I faced in preparing the house along with working as a tremendous communicator between my brother and myself in the settling of our affairs. Bill's patience, focus, knowledge, contacts, expertise and people skills allowed us to find a buyer shortly after the house went on the market. I have known Bill for a long time as we went to school together and I have always known him as an upstanding member of the Pensacola community. I am extremely proud to write a letter of recommendation and endorsement for Bill Chavis. He will go the extra mile to help his buyers and sellers out! Thank you Bill for your excellent service! "
- Pete Holzberger
" We cannot thank you enough for helping us sell our home. From day one to closing you went over and above what is expected of a realtor. Your dedication to your clients is outstanding- you constantly kept us informed as to what was going on and answered our calls or returned them promptly. It was a rough road at times. We did not realize selling our home could be so stressful. You tried to make it as stress free as you could. We really appreciate all the hard work you put into this process from beginning to end. This is just a personal thank you note to you. We will be writing a letter of appreciation to you also. We will recommend you to anyone we know that is thinking about selling their home. Thanks again! After 41 years of living in the same home, we decided to downsize. This was a very stressful decision. We did not know where to start or what to expect. We contacted Bill Chavis, a realtor with Re/Max Horizons Realty, to help get us started. From the first phone call to him to get started until the final selling and closing of our home he went over and above what we expected of a realtor. His dedication to his clients is outstanding. He aims to put his clients at ease and tries to make selling and/or buying a home as stress free as possible. He met with us and explained every detail as to what to expect and what would be involved in selling our home. He never pressured us. He always kept us informed as to what was transpiring. He always answered our calls if we had a question or returned them promptly. Our home sold in three weeks of him listing it. If you want an experienced realtor you can trust and depend on for honesty and integrity and gives you more than 100%, that person is Bill Chavis. We highly recommend Bill and definitely would call him again if we should decide to sell and/or buy another home in the future. "
- Everett and Carolyn Carpenter
" Bill helped me find the perfect home in record time. He immediately understood my wants, special needs and finances. Bill went above and beyond expectations and was so kind and helpful and just plain fun to be around. Furthermore he responded quickly and knowledgeably to all my queries, calls and texts and expertly guided me through every transaction. His knowledge of this geographical area is unparalleled. I would not hesitate to recommend Bill to anyone choosing to do real estate transactions in this area. He is the best! "
- Nina Pennewell
Previous
Next